As OPTEX sensors are implemented in more and more complex network security systems, it's important for us to ensure that our LiDAR sensors were interoperable with a wide variety of security systems. This integration is made simple with ONVIF, while providing flexibility to our customers, as they are not limited to one specific system.

The ONVIF organization has continued to grow since its foundation in 2008 as this need for interoperability between devices has increased. To connect the interface between various IP-based security products, seven different ONVIF profiles were created: A, C, D, G, M, S, & T. More than 20,000 compatible products fall within these profiles, including our REDSCAN Pro LiDAR series.

ONVIF Profile S
ONVIF Profile S is a set of IP streaming features that are supported by a conformant device. OPTEX was able to utilize this standard for both streaming video and alarm transmission because of the assistance camera found in the REDSCAN Pro LiDARS. The 180-degree assistance camera that is used to enhance the set-up process can be streamed back to the Video Management System (VMS) for maintenance checks, assistance during set-up, or as a way of verifying alarms.


Passing on REDSCAN Pro Alarm Events
Before connecting to the VMS, the REDSCAN Pro alarms are configured within the sensor unit. Alarm zones, trouble events, tampering, and device monitoring are among the six ONVIF digital inputs that the RLS-Pro alarms can configure to, in any combination. It is important to note that some VMS platforms may not support up to six ONVIF inputs.
Managing the Camera Module
Similar to other ONVIF-compliant video cameras, the video stream will be discovered as part of the ONVIF discovery process. The video stream can be used for event analysis and system set-up.
Managing Users
The REDSCAN Pro allows multiple ONVIF user profiles to be created to fill the roles of Administrator, Operator, and User roles. These ONVIF user profiles are completely independent of the REDSCAN user profiles, so configuration is flexible.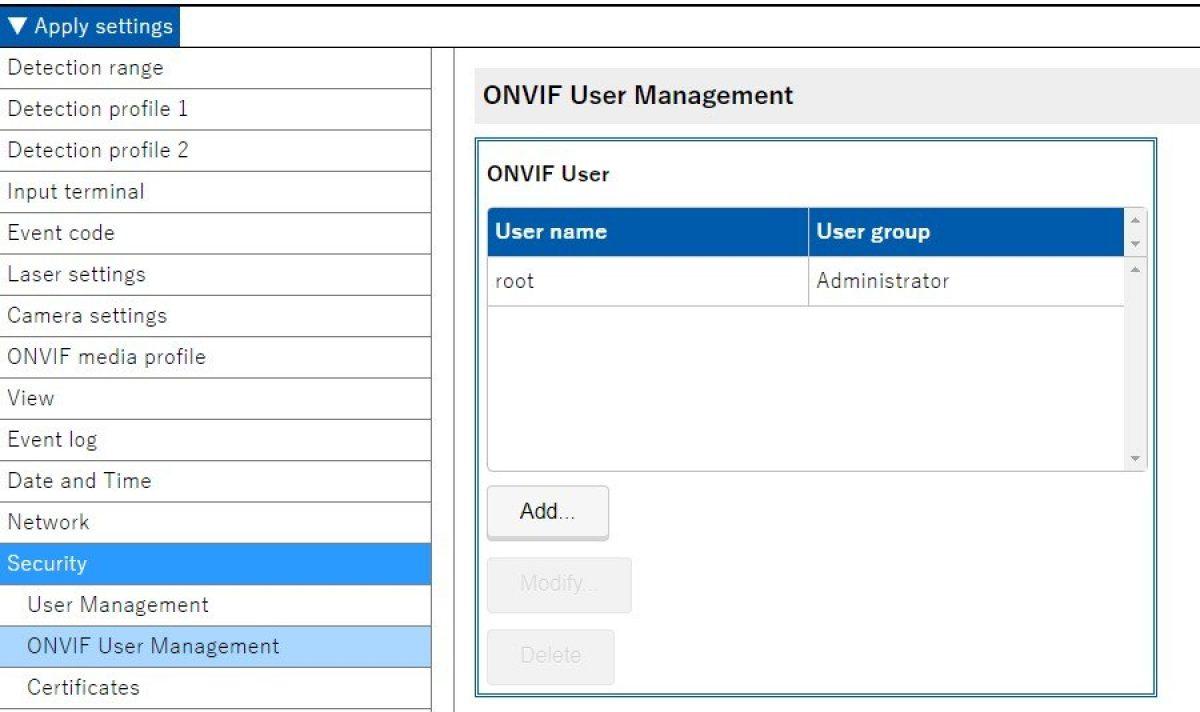 Currently-Integrated VMS Platforms
Our REDSCAN Pro LiDARs are currently integrated with Genetec Security Center, Milestone XProtect, and Panasonic Insight, with more to come. For more information, please visit our integration page.
Integrating the REDSCAN Pro using ONVIF
A simple SDK containing all required information will be available for VMS and PSIM providers, making integration simple. Please contact your local OPTEX support team for details.