15 June 2021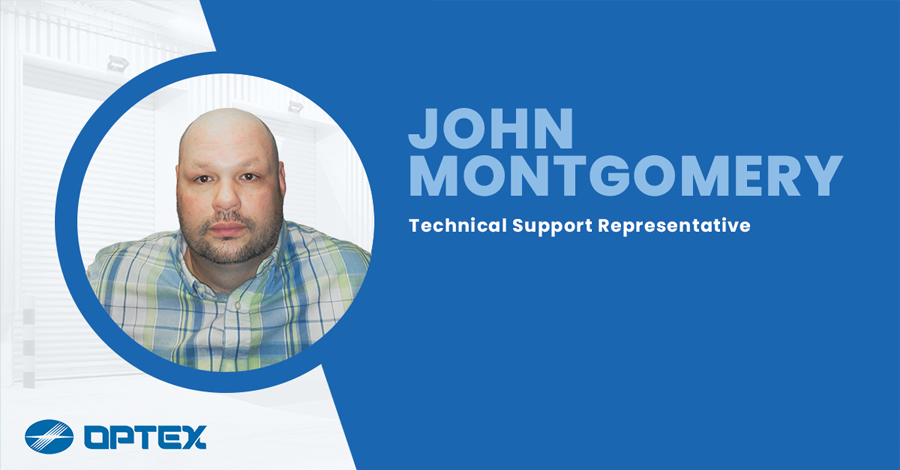 OPTEX Inc. announced today that John Montgomery will be joining the OPTEX Inc. team as the newest Technical Support Representative.
Mr. Montgomery will be joining the OPTEX Inc. team after a fourteen year tenure at Door Controls USA, where he excelled in his role as Technical Support and Customer Service Supervisor. In addition, Mr. Montgomery oversaw the training program at Door Controls USA, and brings that invaluable experience in guidance and instruction to OPTEX Inc. where he will be leading a group of technical support representatives to uphold a standard of exceptional customer service.
Additionally, Mr. Montgomery's experiences that will benefit OPTEX Inc. moving forward include:
His experience at Door Controls USA where he held a series of roles that have contributed to his extensive technical knowledge of automatic doors. He was invaluable to the company through his utilization of this knowledge and through organization of the company's support library.

His success in leading and training a team of fourteen technicians, often teaching and guiding these technicians through new adaptations of technology. He was, and is, an example of the highest standard of customer service and technical excellence.

His impressive background in research and development, along with his degree in Mechanical Engineering from Trinity Valley College. This strong foundation helped him become a certified AAADM instructor and as he worked to contribute to the creation of a new support application and website for Door Controls USA. Mr. Montgomery's passion for learning and personal development will be an invaluable asset to the OPTEX Inc. team.
On what he is most excited for, Mr. Montgomery remarks, "I am looking forward to advancing my knowledge in the sensor industry with OPTEX ... and working alongside the entire OPTEX team to make the products and product support the best in the sensor industry".
"We are very happy that John has decided to join our team. His extensive experience with all forms of automatics will dramatically increase our ability to support our customer, no matter what the situation." shares Rob Blair, President and CEO, OPTEX Inc. America's Headquarters.
About OPTEX Inc.: OPTEX Inc. is the wholly-owned subsidiary of OPTEX Ltd. Japan, manufacturer of advanced Automatic Door Sensor Products. OPTEX Inc. is responsible for all sales and service of OPTEX Door Sensor Products in North, Central and South America. OPTEX Inc. customers are leaders in the fields of Automatic Door manufacturing, sales, installation and service. Choose OPTEX, it's the Safe Choice...Always.